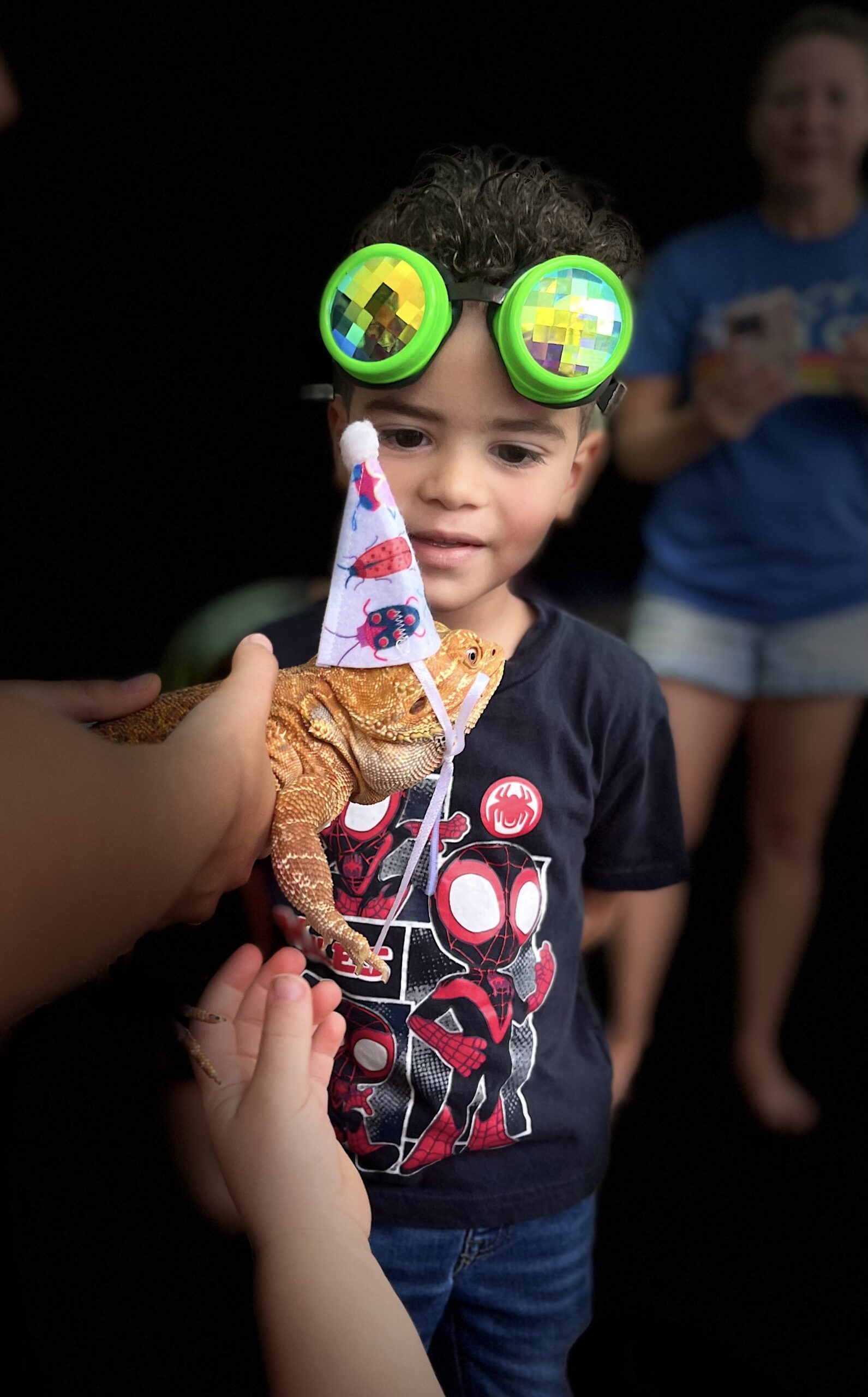 Birthday celebrations or event costs are based on number of participating children, location, and size of venue. All supply is included in the cost of each unique event. (Tables and or seating is not included.) Some events may need shaded area's and or running water with a sink.
Birthday Party Packages start at:
Broward County: 200.00+
West Palm Beach or Miami-Dade Counties  : 225.00+
All bookings require a Minimum $50.00 Deposit
Standard party: 45-55 minutes
Want amazing and beautiful live insects at your next party? Beakers & Bugs has the best creepy crawlies for that budding entomologist! We will bring at least 5 different species of insects to view, touch and handle! We will bring along preserved arachnids and bug eye viewers for everyone to enjoy. The birthday child will get a bug themed party favor box with a magnifier inside and much more!  All party guests will get insect stickers and hand stamps.
Deluxe party: 55-90 minutes
Add on Bearded Dragon: 50.00 +
Add on live insect take home experiment: 25.00 +
Add on age appropriate insect theme craft: 25.00 +
Add on bug party favors for every child: 25.00 +
Sunshine, Lollipopz & 

Rainbowz
Standard Party 45-50 minutes
Everything that's wonderful in this fun, colorful party! Create a sunshine sensitive, coloring changing bracelet! See a rainbow with special science glasses! Use science tools to make beautiful rainbow colors in a test tube! Finally, end the party with yummy gourmet lollipops!
All party-goers will get a favor bag to carry home their new "weather" toys! Want customization with your child's name? Let us know in advance.
Deluxe party 55-65 minutes:
Add on Rainbow faux snow :25 +
Rainbow fizzy chemistry: 25 +
Standard workshop: 45-55 minutes
Witches and wizards will love this fun party with an artistic science twist! We will have an exciting sorting activity to discover which "house" each student will belong in! Wizards will use the power of science in Potions Class! Each wizard will get to keep their little #2 sized cauldron. Drinkable Brew Glitter will also commence with potions class! Included in this package is an acceptance letter for the birthday wizard with owl ballon, train tickets and more fun memorabilia!
Wizards will CHOOSE in advance which class they want next for the standard workshop:
Wand Shop and Spells:  Every wizards gets their own wand here! The students will choose their own OOAK oak wand to decorate as they like and practice their spells! Wand permits included.                                                                                  OR
Herbology Class with Mandrakes: These little handmade, clay root babies are so fun to paint and re-pot! Each student will take home a OOAK mandrake...no ear muffs required!
Deluxe Party: 55-90 minutes
Will include both Wand Shop and Spells and also Herbology class!
Add on Wizards themed slime: 25 +
Acceptance letters, train tickets and extra memorabilia for all students: 25 +
Standard Party 45-55 minutes:
A popular party choice!  All "slimers" will mix in two different, pre made slime's with glitter to take away. Premium slime supply add in's and at least one premium container is included! All "slimers" will carry their slime home in a favor bag!
The third and final slime is created totally from scratch at the party!  The "slimers" hand-make any style they choose. The party ends with a fun guess the "mystery slime" game you won't want to miss! Have a specific theme, container style or color? Want customization with your child's name?  Let us know in advance!
Scent Choices: choose one style in advance
Candy
Bakery
Fruit
Floral
Soda Pop, Boba Tea or Coffee
Surprise them!
Standard Party 45-55 minutes:
Party going paleontologists will really dig this! See museum quality fossils up close. Engage in an interactive -excavating experience with fossils sorting! This party will include a hands-on small group activity, as they put together a Jurassic like Jigsaw!
Party-goers will also get their own little cup to search for an authentic fossil, preserved amber and a toy dinosaur that they take home with them. Finally, each paleontologist will create a fossil clay keepsake to go home with them!
Deluxe party: 55-90 minutes
Add on volcanic eruptions: 25 +
Add on gem searching into the fossil dig: 25 +
Add on an extra age appropriate dinosaur craft: 25 +
Standard Party: 45-55 minutes
Dig up discoveries of beautiful gems and minerals! Become a real rock hound and conduct a few science tests on all of your findings! All geologist will keep a premium tumbled mix of small, and medium sized quality gems and minerals! Finally, all kids will make a gem necklace from their favorite rock! The birthday child will receive a magnifier and also partake in a few edible rocks and candy crystals.
Deluxe Party 55-90:
Add on Paint a pet rock: 25 +
Add on Volcanic Eruption: 25 +
Add on Dinosaur fossils into the mix: 25 +
Edible Earth cups with edible rocks, OR paint candy crystals: 25 +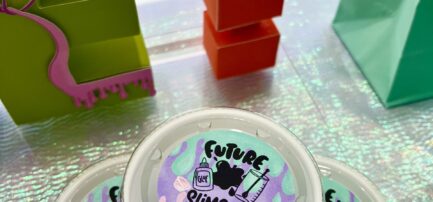 Would you rather have a kit delivered to you and your children's guests?  Great!  Ladybug Lori will custom build these customized kits for you! All kits can be Fed-Ex before your event!
All kits start at $85+
∗Final cost  is determined on how many children served & location.
[/vc_column][/vc_row]