Ladybug Lori Giannotti has a B.A. from Arizona State, has over 20 + years of invertebrate hobby experience and was a zookeeper in Arizona and in Florida.
Ladybug Lori was hired in south Florida as a science teacher. She was given the opportunity to solely create several nationwide children's programs for a national science company and also designed and taught the entire science curriculum for a high-volume environmental outdoor camp.
Throughout her life, her passion for animals and teaching children has never wavered, which is why she created Beakers & Bugs! Our mission is to educate and inspire future generations to love and admire insects and foster a curious science mind!
Beakers and Bugs as been carefully crafted over time with years of experience, quality in programming and of course, passion for the sciences! All of the programs are delivered by Ladybug Lori herself and are proprietary.
Beakers and Bugs is based out of Fort Lauderdale Florida and services the South Florida area including: Fort Lauderdale, Boca Raton, Deerfield Beach, Oakland Park, Davie, Hollywood, Hallandale, Sunrise and Weston.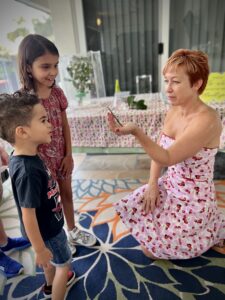 Lori Giannotti
Owner-Program Creator